Great news, everyone! Today is finally the 4th of May! This day is noteworthy because… it's Star Wars day! And people are certainly celebrating the space opera show and its great characters! Therefore there was no chance that Box Critters, and its community, wouldn't celebrate this day too! And, because of that, a new item was released, and it is the Monk Robe! It's code is: "/May4th"!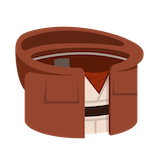 It looks great, right? Well, I personally think it fits great on my critter! What do you think? Do you like this item? Tell us by commenting down below!
Goodbye, and, most importantly, "May the Fourth" be with you! 😉
Don't forget to follow us on Twitter and join our Discord, Discord Critters!